Recycling Changes
Proposed Toter Requirements
---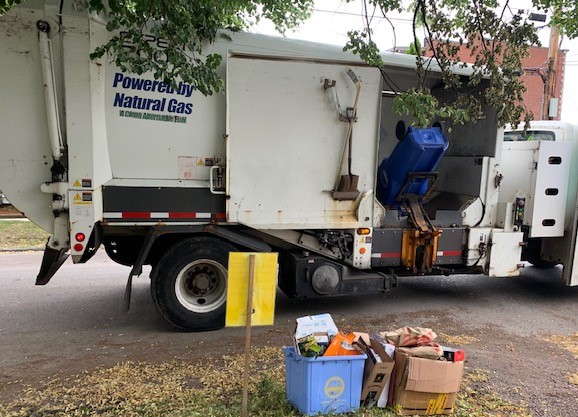 Wind blown and wet debris. Overfilled landfills. Shoulder injuries. This is what we're responding to with an upcoming proposed change to recycling ordinance. By the end of 2022 - if approved by City Council - we'll be requiring every household to have a recycling toter - offered at a heavily subsidized rate & delivered to you. They'll be available in the following sizes:
35 gallon toters - $10 (taking up roughly the same floor space as the current blue bins) - currently out of stock, expected back in November
65 gallon toters - $20 - currently out of stock, expected back in November

95 gallon toters - $25
Why the change?
See the picture above? Our trucks are outfitted with a modern lift mechanism for toters. Yet, due to the thousands of blue bins still in circulation, shoulder injuries are the number one cause of missed work for our recycling team. When one of those dedicated, committed employees is out with an injury - someone on our sidewalk/plow/street maintenance team has to fill in.
Wind blown, wet recycling turns into litter. This is then mostly unusable on the recycling market and instead heads to the landfill. It also makes our streets and neighborhoods unsightly.
The state of the recycling market has changed significantly in the 30 years since Burlington began recycling. It's time we change with it. 
*DPW is using Telelanguage - a real time interpretation service. If you, or any neighbors want to learn more, but prefer to discuss in another language, do not hesitate to call us. 
Next Steps:
You do not need to make any changes right now
DPW staff will be advancing the proposed changes through the Ordinance Committee
If and when Council adopts these changes, we will share a timeline along with more news with you about changes to recycling law in Burlington
We will be working to keep you informed and to answer your questions.
What you can do in the meantime:
While our *current* toter inventory is low, you can always get a head start by filling out an application now. Even without a requirement, toters are a great idea. See below to submit an online application today. If we are out of stock of your selected size, you'll be placed in a queue and your toter will be delivered as soon as we receive them. 
Check back here for more information and updates, reach out to us with questions, check Front Porch Forum (if you subscribe) for updates or sign up for important recycling updates here.
Follow along with the Ordinance Committee and participate or reach out to us or your City Councilor as this moves through the process! See morem about the Committee here: www.burlingtonvt.gov/CityCouncil/OrdinanceCommittee
Helpful Tips
---
As a reminder, Burlington DPW does not collect recycling on these five days of the year: Memorial Day, July 4th (or observed), Labor Day, Thanksgiving, Christmas Day (or observed).

Recycling MUST be out by 7AM on your day of recycling. Our routes and collection times can change!

Recycling cardboard? Remember, it must be cut up into no larger than 2'x2' sections.

Please visit burlingtonvt.gov/dpw/scf if your recycling was out by 7AM and you think you were missed!
Questions?
---
For questions on the proposed new toter requirements:
Please call 802-863-9094 or email dpw-pinecustomerservice@burlingtonvt.gov